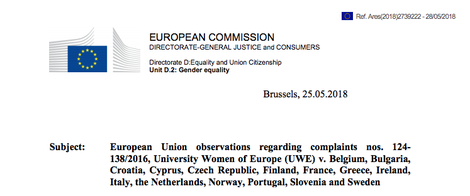 On 2 February 2018, the European Union, through the European Commission, was invited to give its views as regards the collective complaint concerning the violation of the revised European Social Charter lodged to the European Committee of Social Rights by the University Women of Europe (UWE), registered at the Secretariat of the European Social Charter on 24 August 2016.
The University Women of Europe lodged a complaint against fifteen countries that have accepted that the collective complaint is lodged against them. The collective complaint, consisting of fifteen individual complaints, refers to the following topics:
1. Lack of appropriate measures to achieve equal pay for equal work o absence of gender mainstreaming
o ineffective employment equality policy o ineffective protection against discrimination
o the measures implemented do not concern small enterprises o non-requirement to establish classification systems
2. Lack of effectiveness of Equality Ombudsman and Labour Inspectorates
o which (public) authorities are competent to handle complaints?
o which bodies/persons in companies are responsible to handle complaints?
3. Lack of evaluation of gender equality actions, including absence of reliable statistical data
4. Structural deficiencies
5. Gender biased norms and stereotypes
6. Lack of assessment of impact of uptake of parental leave on the pay gap
7. Under-representation of women in decision-making
8. Non-application of certain legislation to management boards.
The University Women of Europe finds the same problems invariably in relation to all countries under examination. Only some details differ, for example when it comes to the availability of statistics on gender pay gap for each particular State. Apart from such details, the University Women of Europe identified the problems of the same nature in the countries against which the complaint is lodged. The University of Europe concludes that the countries in question are in violation of certain articles of the Social Charter and the subsequent related texts